Septic tank maintenance in Northern Ireland
Depawater Ltd provides professional servicing and maintenance for Tricel and other makes of wastewater treatment systems including Tricel Novo 95% treatment tanks and Tricel Vitae 97.5% treatment tanks in Northern Ireland Counties.
ABOUT THE PROJECT
---
DATE
April 2019
LOCATION
Lisburn, Co. Antrim
PROJECT UNDERTAKEN
Service of a Tricel Sewage Treatment Tank
TYPE OF SEWAGE TREATMENT TANK MAINTAINED
Tricel Vitae >97.5% BOD treatment plant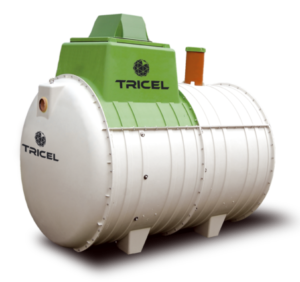 Domestic household customer requiring servicing on a Tricel Vitae UK6 97.5% sewage treatment tank
When a customer phoned Depawater Ltd recently with a septic tank maintenance enquiry for a Tricel Vitae 97.5% sewage treatment tank, we initially assisted them by informing them to call NI Water to empty the sludge compartment in the unit. Emptying the sludge compartment annually is a critically important part of maintaining your septic tank or sewage treatment tank. Currently, in Northern Ireland, this de-sludging service is provided annually by NI Water.
You must call NI Water (0345 7440088) or book online to avail of this service as the maintenance of your septic tank or domestic wastewater treatment system is the homeowner's responsibility as set out in your consent to discharge approval.
Once the Tricel Vitae wastewater treatment system had been desludged, Depawater scheduled an appointment with the customer for the next day, to carry out a full health check on all the components of their domestic sewage treatment system and ensure proper operation and function.
Depawater Ltd. providing great service, just when you need it!
The customer wanted to ensure that their treatment tank had been thoroughly maintained in order to comply with their consent to discharge approval.  We were able to give them this peace of mind whilst also eliminating the risk of system breakdown which can lead to foul odours, pollution and blocked drains.
Our professionally trained and British Water accredited service engineers were able to easily explain the workings of the system, helping the customer to clearly understand the importance of routine treatment tank service and maintenance.  By following a step by step process, all components of the wastewater treatment tank were checked and cleaned, filters were replaced and any blockages cleared, ensuring correct flows and continuous high performance from the Tricel Vitae 97.5% sewage treatment tank.
A comprehensive service report is always filed and a copy is given to the customer, informing them of the actions carried out and the condition of all parts of their system. This information is logged/updated into Depawater Ltd.'s unique service database containing the complete service history which may be accessed anytime.
When a new customer is added to our servicing database, Depawater will provide a free courtesy call every year, to remind them to empty their septic tank or sewage treatment tank and to help them keep on track with the necessary service and maintenance requirements.
Service of Tricel sewage treatment tank – mission accomplished!!
Depawater Ltd. provided yet another customer with a professional and courteous service. The customer was satisfied that their treatment tank service had been carried out by a reputable and trustworthy company who used regularly trained, British Water accredited service engineers.
The comprehensive service report provided, demonstrates the extent of the maintenance carried out, allowing our customers peace of mind that their Tricel wastewater treatment system is currently compliant, free from breakdown and all the while is having no detrimental effect on our environment.
For information or help with septic tank maintenance or service on all brands of domestic sewage treatment tanks, get in touch today for professional service you can trust, protecting you and your family, protecting the environment and protecting our natural waterways and ecosystems from harmful waste and pollution.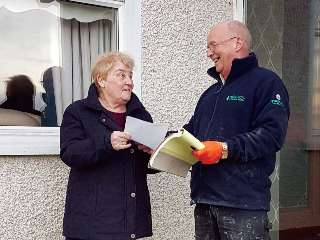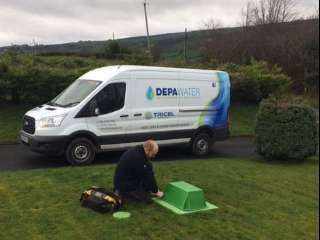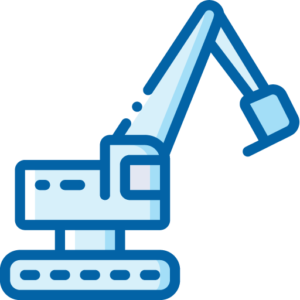 Free Site Visit & Commissioning
Offering you the best value for money wastewater treatment systems in Northern Ireland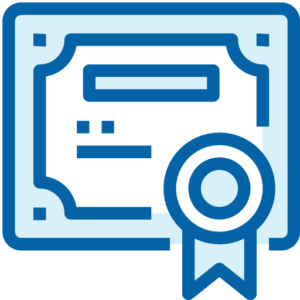 Fully Certified Engineers
Depawater's engineers are accredited by British Water, all our products are CE certified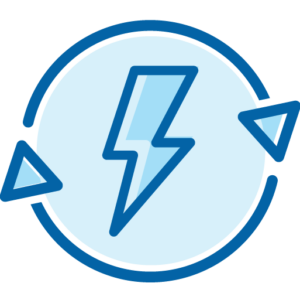 Reliable & Efficient
We deliver on reliability and efficiency in both service and products
Work with us on your project
If you are building or renovating a house and require a sewage treatment system installed or a septic tank upgraded, contact us today and speak to our experts to learn which product is best for your needs.