Percolation Tests
---
Water Percolation testing in Northern Ireland
We believe it is very important as a first step to get a site visit. During percolation tests, we assess your site conditions which will help us to recommend which wastewater treatment solution will be compliant, high-performing and tailored to your needs.
Percolation Test site visits available in Northern Ireland!
Percolation tests are required to calculate the drainage rate of the land in your site so that the wastewater effluent leaving your septic tank or sewage treatment plant may safely drain away into the soil below. It is vital that this test is carried out so that a percolation / sub-surface drainage field can be correctly sized and installed to deal with the wastewater effluent coming from your home's septic or sewage treatment tank.
Failure to do this will result in an inadequate system providing substandard treatment which will inevitably fail, causing blockages and serious risk to the health and well-being of the inhabitants or anyone within the vicinity of the untreated effluent in and around your home.
Depawater carries out water percolation testing and offers a package.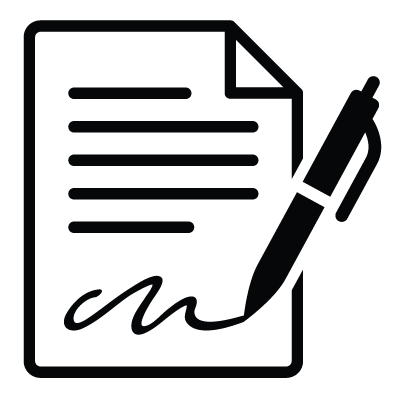 After you have carried out your percolation test, the consent application forms can be filled in by Depawater Ltd.
An application fee is also required by NIEA and is not included within our pricing structure. The NIEA fee is dependent on the chosen discharge option.
Current application fees to the NIEA are as follows:
Discharge to subsurface irrigation – £117

Discharge to waterway – £292
Why do I need a Percolation Test?
You need to carry out a percolation test to determine whether a drainage field/soakaway can be installed at your property and also how large the drainage field will need to be.  A drainage field is used to add additional treatment to the water that leaves a septic/treatment tank.  A drainage field is often commonly called a soakaway.
It is crucial that a percolation test gets carried out if you are thinking of installing a new drainage field/soakaway or replacing an existing one to avoid any future soakaway problems.
What is a Percolation Test & How to perform it.
A percolation test involves digging at least 2 test holes, filling them with water and checking if the water is draining away.  Locate the test holes where you are planning to install the soakaway system (drainage field) and dig to the planned depth below ground. Dig the test holes, 300mm square to a depth at least 300mm below the required invert level of the infiltration pipe.
Once dug, you should fill the holes with water. If, after six to twelve hours, the water has not drained away, the percolation test has failed.
If the percolation has succeeded, fill the pits again with water and measure the time taken for the water to drop from 3/4 full (225mm) to 1/4 full (150mm) then divide this time by 150. The answer gives the average time in seconds (Vp) required for the water to drop 1mm. You have to repeat this percolation test three times in each pit.
You will need a digger on site to carry out a percolation test.  Depawater can carry out percolation testing for you.
Percolation Test guidelines as per NIEA
Test hole excavated to 300mm x 300mm x 1100mm.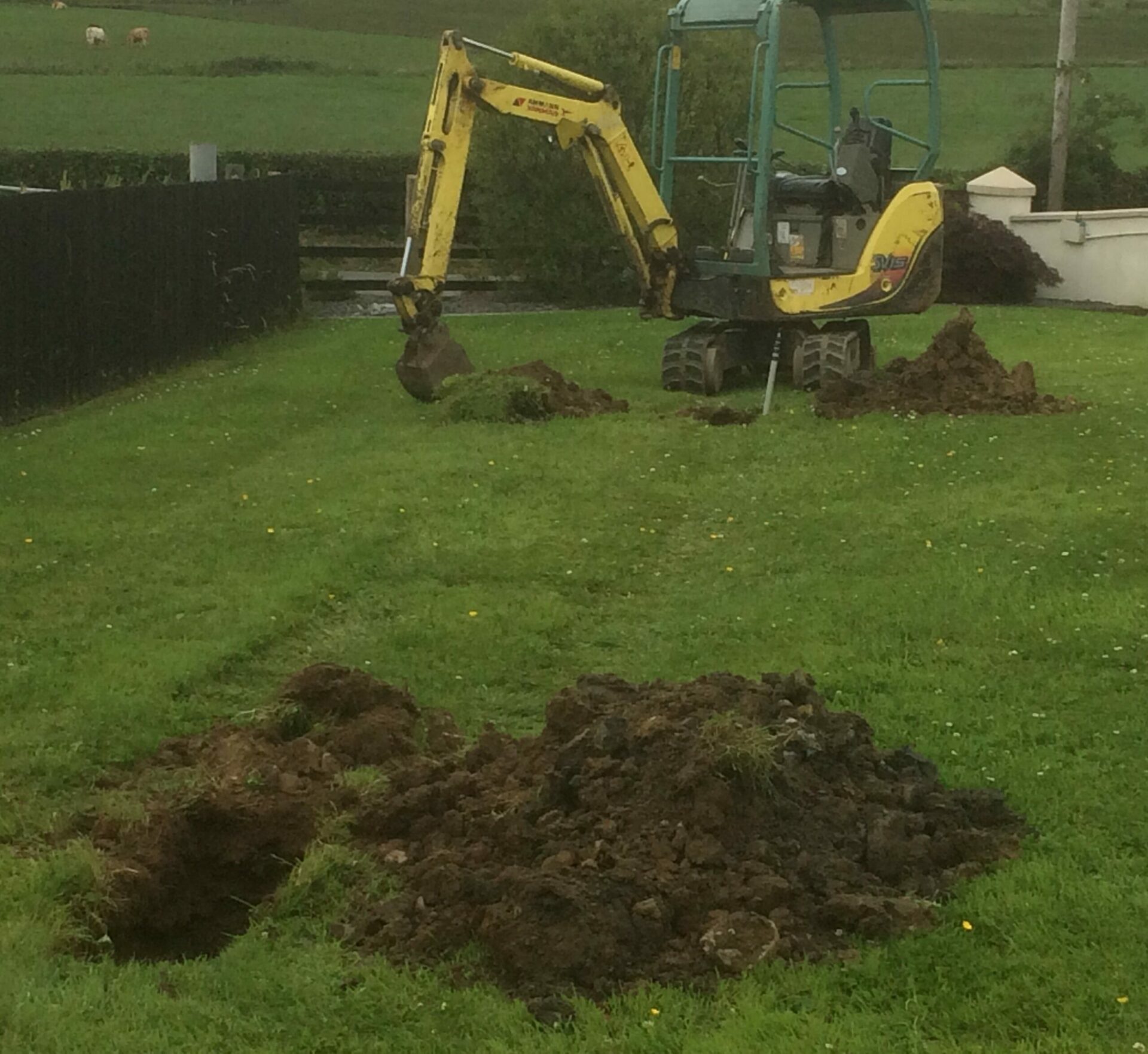 Digging percolation test holes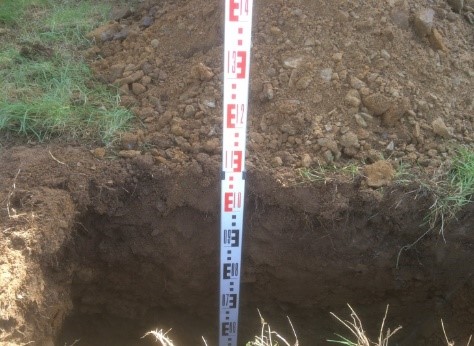 Minimum as per NIEA guidelines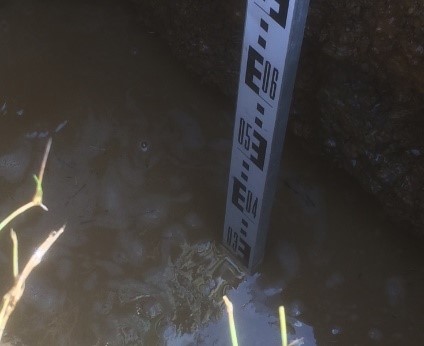 Test hole with 300mm of water
How does a soakaway system/drainage field work?
A soakaway system (or drainage field) discharges the effluent from septic tanks and sewage treatment plants to ground. It is a series of perforated pipes placed in trenches and arranged so that the effluent disperses through the ground for further treatment.  You can see the trenches in the picture below.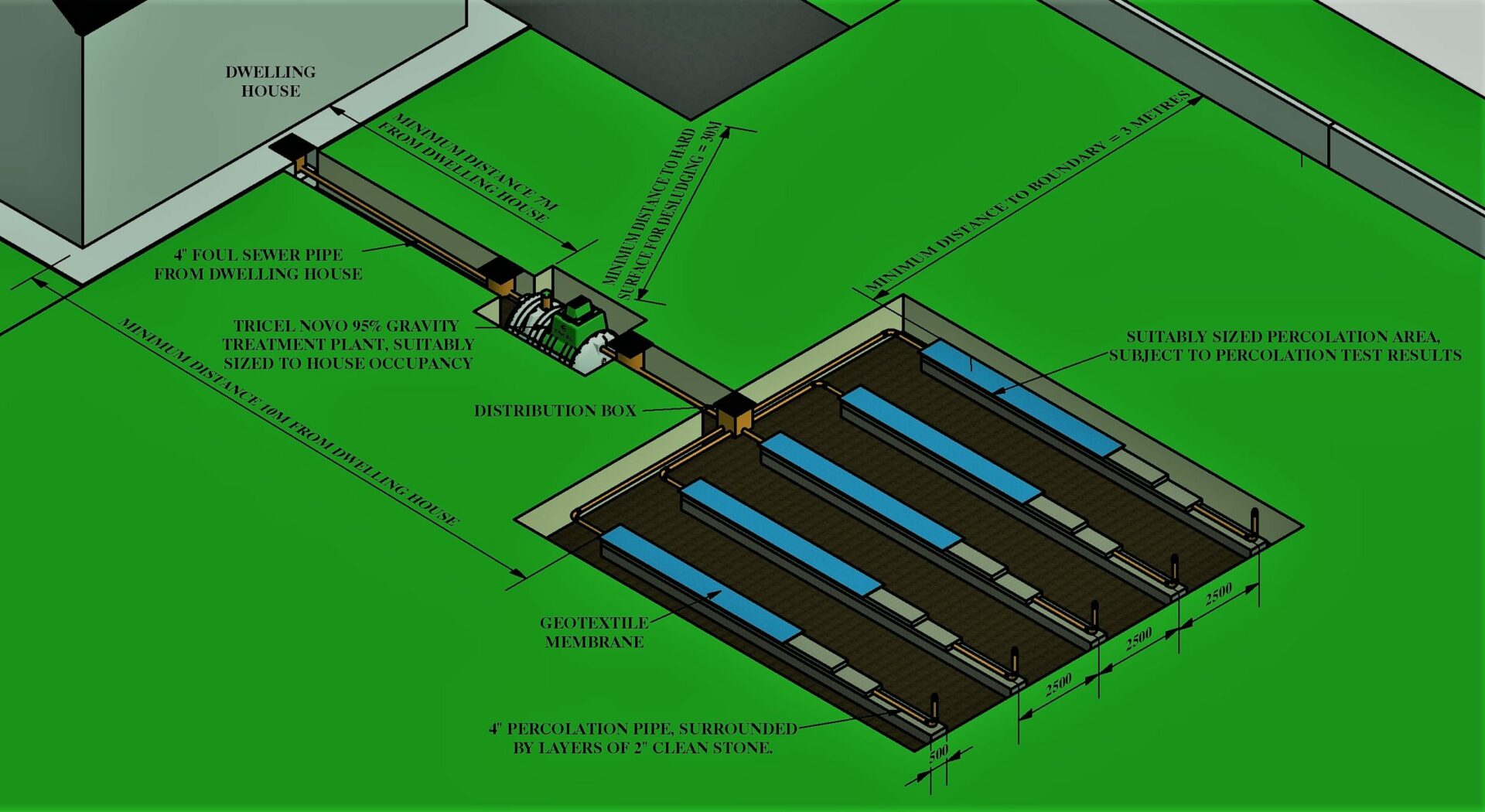 As part of the Tricel sewage treatment plant parts range, Depawater offer distribution boxes to help distribute effluent evenly into drainage fields (soakaways).
The effluent discharged from the sewage tank is treated and the remaining solids sink to the bottom of your septic tank, or packaged treatment plant, and get removed when the tank is emptied every year. Contact NI Water to arrange your free yearly desludge of your septic tank.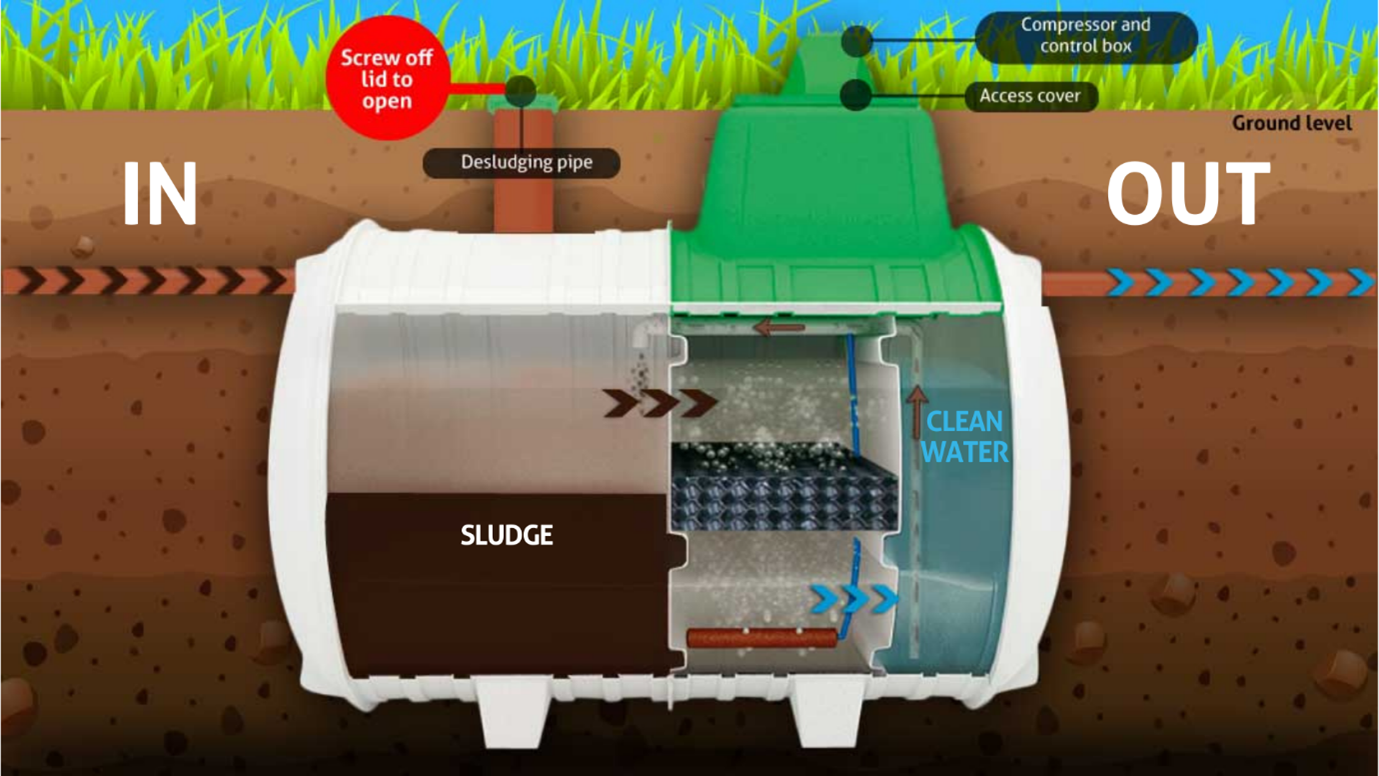 Why is the type of soil on my property so important?
The type of soil of your property has an impact on the correct functioning of the soakaway system. If the soil is too saturated or too dry, the effluent will not be able to trickle through the ground as it should and thus will not get treated enough.
Soil which is mostly clay based is usually not suitable for a soakaway, as it is not porous and won't allow the sewage to pass through it.
Likewise, fine sandy soil is going to drain water away much faster, which might prevent adequate treatment.
Soakaway systems should NOT be installed under driveways, parking areas, buildings or near trees, dwellings, boundaries, rivers and streams.
Call us at this number 02837 507023 or contact us if you need any help.  Depawater carries out percolation tests and files paperwork to help you obtain your Consent to Discharge.
If your percolation test fails DO NOT PANIC!  There may be other options available to you.  Please contact us and we will do our best to help!
Consent to Discharge
Consent to discharge made easy. We can assist for new or existing applications, new builds or extensions. We will help you obtain the approval needed for your legal requirements or to get your mortgage approval. From carrying out site surveys, to acquiring maps, to helping you choose the correct level of treatment required from your new septic tank or sewage treatment plant, Depawater will help you to obtain your approval with a simple effective solution that best suit your needs.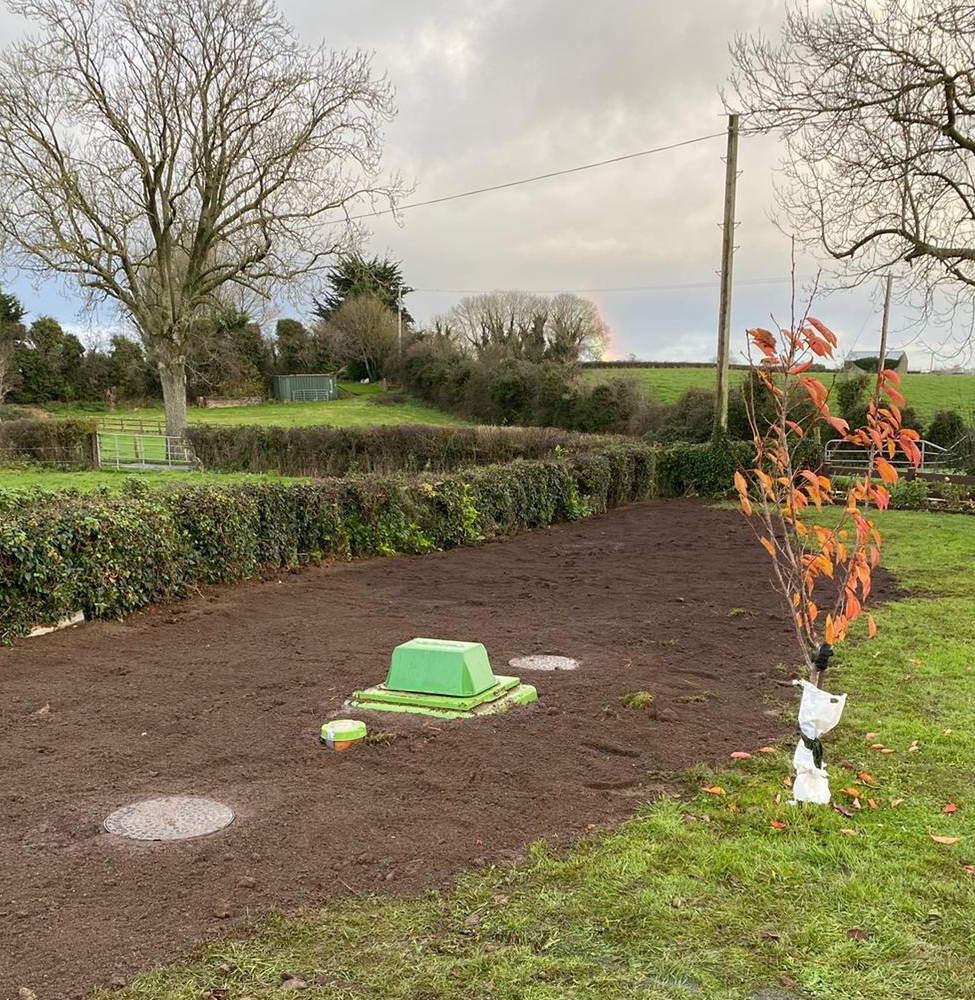 Installation Services
We offer turn key installation/replacement septic tank packages that include free site visits and quotations, percolation testing, filing consent to discharge application forms, installation and commissioning of wastewater treatment tanks.  Let us manage your project from start to finish!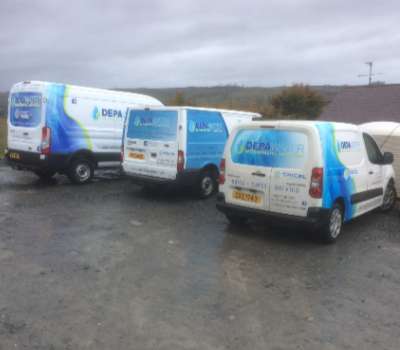 Callout Service
In the event of a breakdown or component failure, we offer a callout service to fix the problem for you. Our callout vehicles carry a selection of spare parts for wastewater treatment systems and can deal with many issues on the same day.