Maintenance & Services
---
Maintenance Services for Sewage Treatment Solutions
Maintenance plays a pivotal part in protecting the most natural and valuable resource within our environment, Clean Water.
Maintenance & Servicing of Sewage Treatment Tanks
Did you know that you are responsible for ensuring that your wastewater treatment system is de-sludged and maintained annually to prevent possible pollution?
One of the MOST important steps you can take to maintain your wastewater treatment tank is to get it desludged (emptied) at least once every 12 months.
We recommend you get your domestic waste water treatment tank serviced yearly after you get the treatment tank desludged (emptied).  NI Water will desludge your tank for free, once a year, if you are paying rates, call them on 03457440088 or book to get your tank emptied online.  NI Water state:
NI Water provides two desludging services to people in properties that aren't connected to main sewers. They can offer:
septic tank desludge to remove between 1 and 2.5 cubic metres of sludge within twelve working days
domestic treatment plant desludge to remove between 1 and 2.5 cubic metres of sludge within twelve working days
Q.  I have been told that I don't NEED to get my Tricel treatment tank emptied, that the bacteria breakdown the sludge?  Is this True?
No, this is NOT true.  ALL wastewater treatment tanks need to be emptied (desludged) once a year.  The sludge remains in the tank and it is only the waste water that is treated before it leaves the tank.  You are entitled to one free desludge a year if you are paying rates.  Call NI Water on 03457440088 to arrange a desludge or visit their online self service portal.  
Q. I have had my treatment tank desludged this morning and the service engineer arrived to service the tank, he is telling me the tank is FULL, how can this be?
On some occasions we arrive to service a tank that has been deemed as emptied only to find that the tank is FULL of sludge.  We cannot service the tank if it is FULL of sludge.  The customer understandably tells us that their tank has been emptied – they saw the septic tank being desludged!

We understand that the desludging company did appear to empty the tank BUT the tank has been emptied via the wrong access point and up to 4.5m3 of clean water has been removed instead of sludge!  The sludge is still in the sludge chamber.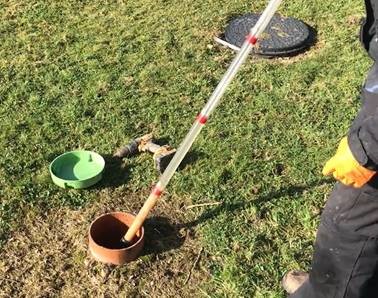 Q.  Does it matter where on my tank I get it emptied?  Is there a particular access point?
Yes!  You need to make sure your Tricel wastewater treatment tank is desludged using the sludge cap as an access point.
The sludge cap is the

smaller round green cap

– this is the access point where the tank should be desludged annually.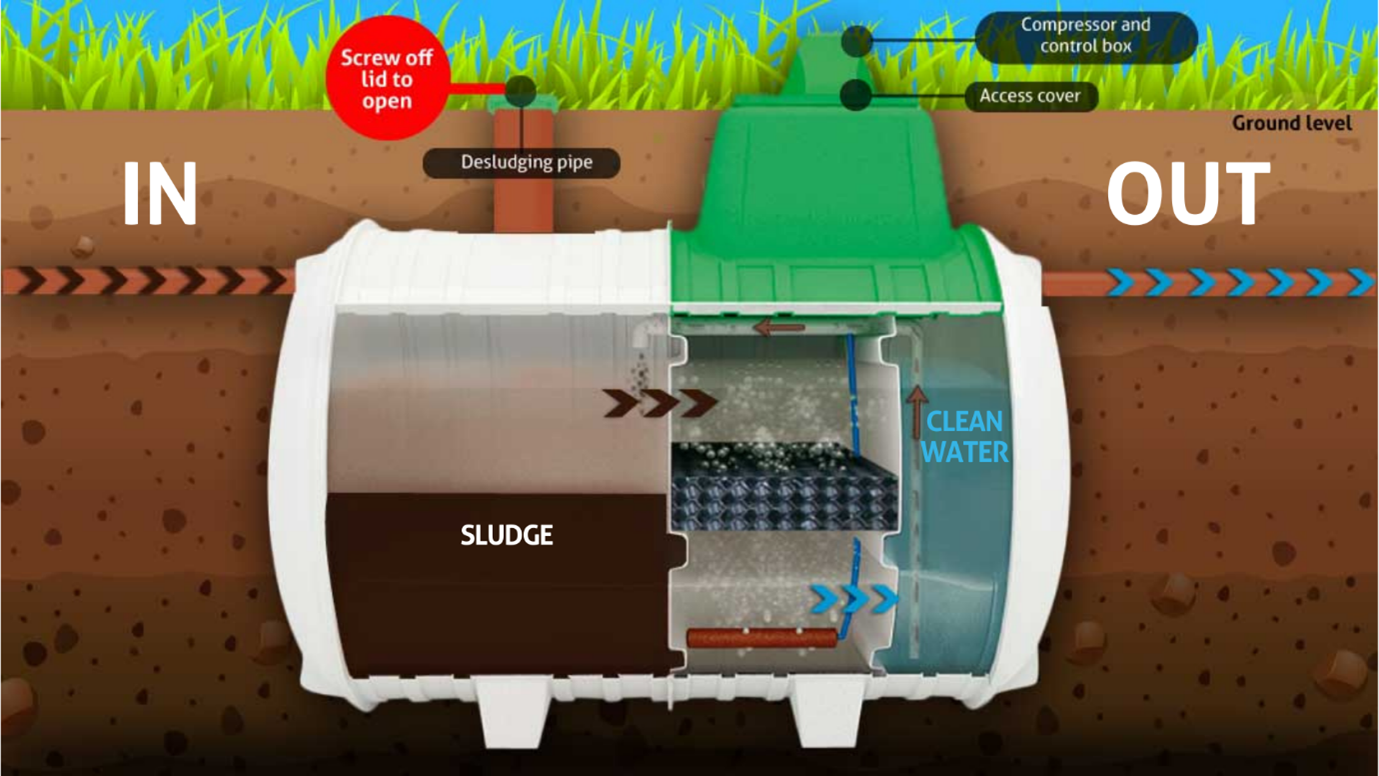 If the desludging company desludges your tank via the green compressor access cover then they will only be removing clean water, NOT sludge.
What Can Go Wrong If Your Sewage System Isn't Frequently Emptied?
Your sewage tank may overflow blocking your drainpipes.
Sinks in your house might drain slowly and toilets take longer to flush, even after you have tried to unclog the drains.
A foul and nasty smell could arise in the area of your sewage treatment plant.
Grass, plants and flowers might start growing faster in the area around your septic tank compared to other parts of the garden.
If your sewage discharges into a watercourse, there may be overflowing sludge or scum on the water.
Solids could enter the soakaway, leading to soakaway damage.
Why is it important to Service your Tricel wastewater treatment tank?
Ultimately, if you do not service your waste water treatment tank you run the risk of blockages, flooding, faulty compressors, all of which will lead to smells. The Northern Ireland Environment Agency (NIEA) recommends that you empty your tank annually and service it regularly, and by doing so you will avoid expensive repairs to rectify the problems listed above. However, if any issues do arise, Depawater Ltd. is here to help you with the maintenance and repair of your sewage tank.
Wastewater treatment tank maintenance is essential to prevent pollution, while also ensuring the smooth operation of your system and correct levels of operational performance and efficiency are maintained!
Depawater Ltd. offer you low cost, affordable service plans, tailored to suit your needs, keeping your Tricel sewage treatment tank in optimum working order, ensuring you are compliant with current environmental legislation for your consent to discharge and also eliminating the risk of pollution or breakdown which can lead to nuisance smells or even blocked drains.
With four service vehicles covering all of Northern Ireland counties including Co. Armagh, Co. Down, Co. Antrim, Co. Derry/L'Derry, Co. Fermanagh and Co. Tyrone, you know you can depend on Depawater Ltd. to provide quick, reliable and affordable service for your domestic or commercial sewage treatment tank whenever you need it.
Call Out Service
In the event of a breakdown or component failure, we offer a callout service to fix the problem for you. Our callout vehicle carries a selection of spare parts for Tricel NOVO, Tricel Vitae and Klargester Biodisc wastewater treatment systems and can deal with many issues on the same day.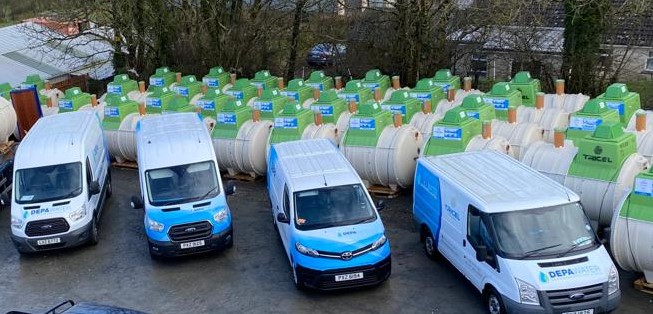 Callout Service
In the event of a breakdown or component failure, we offer a callout service to fix the problem for you. Our callout vehicles carry a selection of spare parts for wastewater treatment systems and can deal with many issues on the same day.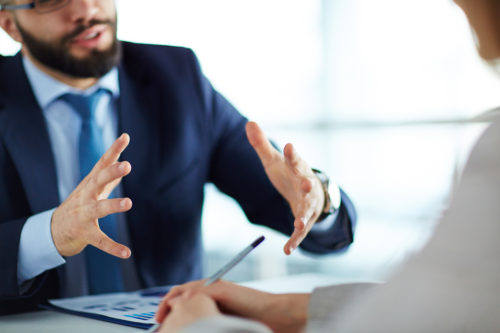 Off Mains Drainage Consultants
We also provide off-mains drainage consultancy services to help you pick suitable drainage solutions or address issues with existing septic tanks and soakaways. With our site visits, recommendations, consent to discharge assistance, commissioning or installation options, we can help you with the transition to the perfect wastewater treatment solutions.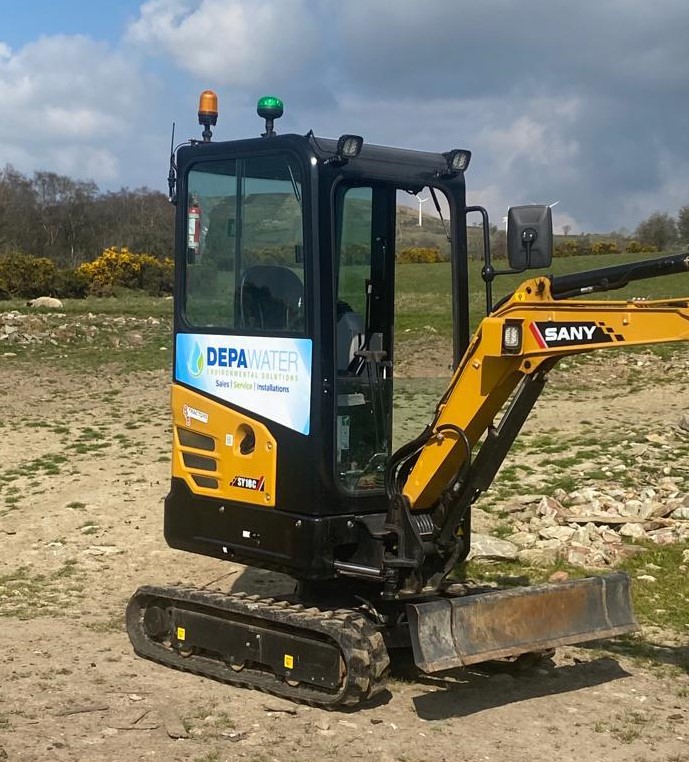 Percolation Tests
Contact us for percolation testing and correct sizing of septic tanks, sewage treatment tanks and percolation areas. We will provide you with the solution correctly sized and site specific to your needs whilst also complying with the latest British Standards for correct sizing and design of sewage treatment systems and drainage fields.